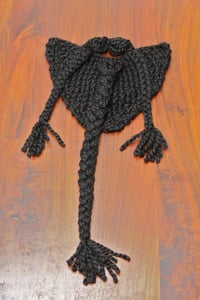 $

32.00
Do you need something to keep your face warm, but feel it's a waste to neglect such a great opportunity for expression? Our knit beard will keep you toasty, while looking totally awesome.
The beard is one size fits most and designed to fit onto any type of beanie/hat. It comes with a needle and matching thread to insure that attaching it to your desired head-covering is quick and easy. You can also set an ~1/2 inch button into any beanie, and allow for quick movement of the beard from piece to piece.
Made from a 50/50 blend of acrylic and wool, the beard has the warmth of wool, but without the nasty scratchiness. Even after a full day of playing around, snowboarding, or cruising around town, your face won't feel itchy at all!
Be sure to check out all your color options! And please remember this is for the beard only - hat not included, and will take 5-7 days to get shipped out!